Not Just Another Pretty Face
"I have seen 3 or 4 other clown acts, and she blows them out of the water,
she's so versatile."
- D. Jackson
Button isn't just the best at what she does, she's the only one who does what she does.

Her act consists of ventriloquism, comedy, magic, juggling,
balloon animals, trick roping, audience participation, and more,
as appropriate to circumstances.

"Button, thanks a million for making our picnic a special memory for a lot of kids and adults."
- Home Oil
A Full-Time Professional Clown since 1985.
Button has skills that took over 20 years of training to acquire. She trained and taught at both clown and variety arts schools in the U.S.A. and recently attended the Ventriloquist Convention in Fort Mitchell Kentucky.
"Great entertainment"
- Centre de Resources de Calgary

Button performs over 200 shows a year, appearing at birthdays, daycares,
Stampede breakfasts, corporate events, and Christmas parties.
"The content of this show kept all the children's attention and everyone, adults included, thoroughly enjoyed the show."
- Digital Equipment of Canada Ltd.
Performed 8 years in a row on stage at the Calgary Stampede.
Button does Variety Shows as Button the Clownette,
as well as Western Shows as Button the Broncette.
Also available for Roving.
Now available as a Trick Roper!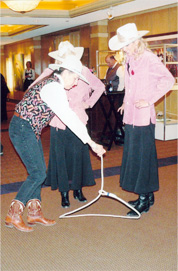 "Button, your clown show was excellent. The laughter rang through the whole gym."
- Campus Pre-School
Her amazing ventriloquist act even brought the adults out of the beer gardens."
- Estlin Homecoming