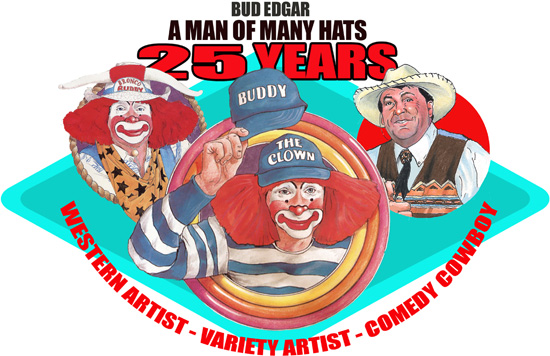 Buddy
A One-Clown Variety Show
Juggling Five

"Almost Famous"


Bronco Buddy
The Cowboy Clown from Calgary
Riding Blister
"Buddy is great entertainment for all ages and abilities."
- The Cerebral Palsy Association
He's the Real Deal.
| | | |
| --- | --- | --- |
| | Buddy has performed thousands of shows across Canada, the USA, and overseas. Buddy has both trained and taught at clown and variety arts schools in the United States. Buddy has been featured at more exhibitions than any clown in Canada, including 8 years in a row at the Calgary Stampede. | |
"Buddy's performance was outstanding with an incredible energy level."
- The Calgary Stampede
Let Buddy's experience work for you
When Buddy is not on the road he is available for birthdays, special events,
and school shows in Calgary.
"We appreciate your stage work and ability to work so well with the children... You have that special touch that lets kids know they're important."


- Laughmakers International Variety Arts Conference, New York
| | | |
| --- | --- | --- |
| Bronco Buddy | Buddy is beside himself | Buddy the Clown |
Buddy performs Variety Shows as Buddy the Clown, as well as
Western Shows as Bronco Buddy, Calgary's original (non-rodeo) cowboy clown.
Buddy has been performing Variety and Western Shows for adults and/or
familiessince 1983.

"Once in a while there comes along someone who has either juggling talent, roping talent, balancing talent or rapport with their audience; then there is Buddy who has all that rolled into one." - Camrose Exhibition
There's no-Buddy better.

"Hey, this guy is pretty good!"

Buddy's Shows Include

Juggling, Unicycling, Magic, Cigar Boxes, Balloon Animals, Trick Roping, Funny Fiddle, Trick Bike, Harmonica, Wire Walking, Plate Spinning, A Skateboard Act, Balancing Acts, Lots of Jokes, Improv, and Audience Participation (as appropriate to circumstances).

Also available for Roving
"We were impessed with Buddy's skills in juggling,
magic and trick roping."


- Sawnessy Library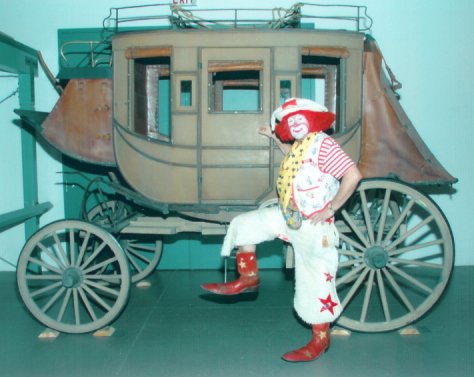 Buddy going on-stage at Cardston Carriage Museum.
No-Buddy does it better.
"An incredible show and roving performance, Buddy provided a wide variety of acts which appealed to young and old alike."
- Jasper Children's Festival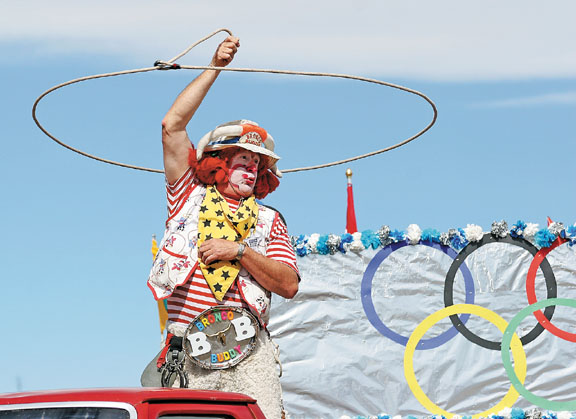 Okotoks Western Wheel - June 7 2006
Entertaining the crowd at the Diamond Valley Parade
on Saturday morning in Black Diamond, Alberta.
It doesn't cost any more to hire the best.
The Bottom Line: Buddy is not your ordinary clown. Clowning is his career choice, it's not a hobby or part-time job. He trained and taught at clown and variety arts schools in the U.S.A. He has been performing full time since 1985. That is why he is so good at it, why most of his work is repeat or referral and why customer satisfaction is important to him. Shows are booked every day. As email is not a secure method of communication,
please CALL us at (403) 282-0361 to assure availability.